The Ellen Payne Odom Genealogy Library, Moultrie, Georgia, is the Archival & Genealogical Repository for The Clan Keith Society USA, Inc.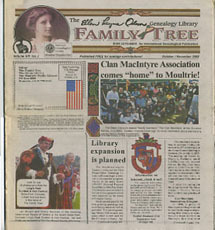 What makes the Odom Library so unique? A record number (over 115 to-date) of Scottish clans have declared the Odom Library as the depository of their genealogical archives since the library's opening in 1990. The library used to publish a bi-monthly newsletter, Family Tree (see details on this site), and is an active contributor to <www.electricscotland.com>.
Researchers interested in more information about the libraries collections may contact Beth Gay, c/o Ellen Payne Odom Library, P.O. Box 2828. An inquiry should be as specific as possible about the ancestor being researched. Beth Gay is editor of Family Tree.
The Odom Library is located at 204 Fifth Street, S.E., Moultrie, GA 31768; telephone (229) 985-6540. The wing is open during regular hours of the Moultrie/Colquitt County Library, Monday through Saturday, 8:30 a.m. to 5:30 p.m., and Tuesday 8:30 a.m. to 8:00 p.m.
See more about the library online at http://www.electricscotland.com/familytree/index.htm.
DIRECTORY OF GENEALOGY LIBRARIES IN THE U.S.