CLAN KEITH SOCIETIES AROUND THE WORLD
The Chief of Clan Keith recognizes other societies, Canada, Australia, and New Zealand. Below are their official available websites:
THE KEITH HIGHLANDERS PIPE BAND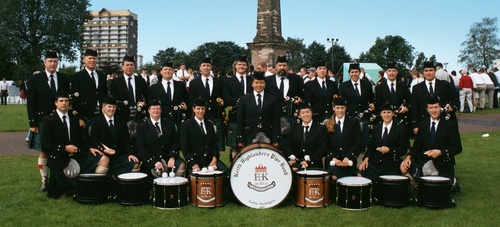 The Keith Highlanders Pipe Band was formed in 1952. The 12th Earl of Kintore proclaimed this Seattle, Washington band "the Official Band of the Clan Keith" which is a rare designation for a pipe band outside of Scotland. During its fifty-nine year history, the band has performed both internationally and throughout the Northwest. In 2002, the band celebrated its 50th Anniversary and the 1000th Anniversary of the Clan Keith by traveling to Scotland. Thirty-two pipers, drummers and highland dancers made the two week trip, performing in Aberdeen, Peterhead, Inverugie, Inverurie, Dunnottar and at the Aboyne Highland Games. This trip also marked the first appearance by KHPB at the World Pipe Band Championships. The band is currently directed by Music Director Greg MacDonald and Pipe Major James McKnight and is planning to make its fifth return to the World Pipe Band Championships in 2012. To learn more about The Keith Highlanders Pipe Band, please visit their official website: <www.khpb.org>
The websites below are owned and operated by parties other than The Clan Keith Society USA, Inc. Because we do not manage the organizations and individuals responsible for these sites, we bear no responsibility for the content held within. They are referenced here as possible resources. If you would like your site included on this list, please email our webmaster.
ADDITIONAL KEITH SITES
ADDITIONAL KEITH FACEBOOK PAGES
KEITH MYSPACE PAGE