(listed chronologically)
GEORGE ELPHINSTONE (1746-1823), Viscount Keith
Born in Stirling, son of the 10th Elphinstone, George entered the navy at age 15 and enjoyed a distinguished career which included service in America, India, Ceylon and the Mediterranean. After serving as a captain in the American Revolution and early French Revolutionary Wars, he was appointed rear admiral (1794) and created Baron Keith in 1797. He suppressed the mutinies at Nore and Spithead (1797) and commanded the Mediterranean fleet (1798-1801), the North Sea fleet (1803-7), and the Channel fleet (1812-15), receiving Napoleon's surrender after Waterloo. He was created Viscount Keith in 1814.
Sources: Collins Encyclopedia of Scotland; Columbia Encyclopedia, Sixth Edition, 2005.
WILLIAM MARSHALL (1748-1833)
Marshall's career was in the household of the Duke of Gordon, to whom he eventually became factor. He was never a professional musician and often laid his violin aside for months on end, but his contribution to Scottish fiddle music was a major one. He extended the variety of keys, as well fro regular use of higher positions for the left hand. In this he shows the beginning of the absorption of Continental violin technique as well as style into the mainstream of the traditional where, previously, it had been concentrated in the hands of professional orchestral violinists/composers. He was a master of the Strathspey but also composed a number of classical-style minuets dedicated for the most part to leading Tories. His best-known melody is his setting of Burns' 'Of a' the airts the wing can blaw'. Marshall was also an exceptionally talented horologist.
Source: Collins Encyclopedia of Scotland, 682
JOHN MARSHALL (1755-1835), 4th Chief Justice of the United States Supreme Court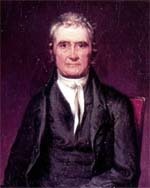 The eldest of 15 children, John Marshall was born in Germantown (now Midland), Virginia. His father rose to prominence in local and state politics, and his grandfather was a Scottish minister. Proud of his Scottish heritage, it has been said that he wore a Keith clan ring throughout his professional life.
A member of the Culpepper Minutemen early in the American Revolutionary War, he entered the Third Virginia Continental Regiment on 30 July 1776 and served ably in a number of important campaigns, rising to Captain. He became a lawyer after the war, serving his state as a leader in the Assembly and in the new Federalist Party. He attracted attention from national leaders, and was offered several diplomatic posts, but preferred to remain in Virginia. In 1797, however, he accepted an appointment on a three-man commission to negotiate with France. After French leaders demanded personal bribes (see XYZ Affair) in return for engaging in the negotiations, Marshall answered for his colleagues in a brilliant memorial which rejected this extortion and upheld the honor and dignity of the new country.
Later, Marshall was asked by John Adams to be an Associate Justice of the Supreme Court, but instead Marshall opted to run for a position in Congress. Elected in 1799, Marshall became Secretary of State on 6 June 1800. Here he strongly opposed violations of American rights on the high seas and adopted a policy which necessitated a strong Navy to give force to American diplomatic protests.
Appointed Chief Justice on 20 January 1801, Marshall continued to serve as Secretary of State until the end of Adams' administration 4 March 1801. In the United States Supreme Court, Marshall made his greatest contributions to the development of American government. In a series of historic decisions, he established the judiciary as an independent and influential branch of the government equal to Congress and the Presidency. Perhaps the most significant of these cases was that of Marbury v. Madison, in which the principle of judicial review was simply stated by Marshall: "A legislative act contrary to the Constitution is not law." Then, as the young nation was endangered by regional and local interests which often threatened to tear it to shreds, Marshall again and again interpreted the Constitution broadly so that the Federal Government had the power to become a respected and creative force guiding and encouraging the nation's growth. For practical purposes, the Constitution in its most important aspects today is the Constitution as John Marshall interpreted it. As Chief Justice he embodied the majesty of the Judicial Branch of the government as fully as the President stood for the power of the Executive Branch. Marshall served as Chief Justice through five presidential administrations, a stalwart proponent of Federalism and nemesis of the Jeffersonian school of government throughout its heyday. He died July 6, 1835, having served as Chief Justice for nearly 35 years.
Source: http://en.wikipedia.org/wiki/John_Marshall
MOSES AUSTIN (1761-1821), American pioneer
Born Durham, Conn. After developing lead mines in SW Virginia, he went to inspect (1796-97) prospects in Missouri, then Spanish territory. In 1798 he founded Potosi, Missouri and became a miner and trader there. Hard times caused him to go to Texas in 1820 and get the Spanish governor's permission to settle 300 families in Texas. The grant was confirmed in 1821, but Moses Austin died without realizing his settlement plans. His son, Stephen F. Austin, took up the plans.
Source: Columbia Encyclopedia, Sixth Edition, 2005.
JOHN AUSTIN (1790-1859), English jurist.
He served (1826-32) as professor of jurisprudence at the Univ. of London, and his lectures were published (with additional material) as The Province of Jurisprudence Determined (1832, repr. 1967, 3 vol.) and Lectures on Jurisprudence (1869, 5th ed. 1911). These books presented a comprehensive analysis of the principles underlying all legal systems. Austin argued that law was the expression of the will of the sovereign authority and was not to be confused with the dictates of religion and ethics. Austin's work—in part stemming from that of Jeremy Bentham —had a strong influence on many later legal theorists, including John Stuart Mill . His wife, Sarah Taylor Austin, was a well-known translator.
Source: Columbia Encyclopedia, Sixth Edition, 2005.
ALEXANDER KEITH (1791-1880), Minister of St Cyrus.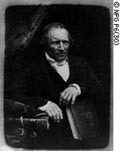 Presbyterian minister of the Free Church of Scotland and descendant of the 3rd Earl Marischal. He began his ministry in the Established Church in 1816 and in 1843 joined in the formation of the Free Church. Prior to the Disruption, he corresponded with Lord Bexley on "the collision between the civil and the church courts in Scotland" (1841). He suffered from ill health, and devoted himself to study and writing when unable to perform parochial duties.
One of the three Church of Scotland ministers who in 1839 accompanied M'Cheyne on the Mission of Inquiry to Palestine. In 1844 he revisited Palestine with his son, Dr George Skene Keith (1819-1910), who was the first person to photograph the land. He wrote various books on the subject of Prophecy.
"Few more satisfactory works in confirmation of the inspiration of Scripture have appeared within our own time than that of Dr. Keith." - Rev. Dr. Shuttleworth
Stephen F. Austin (1793-1836), American leader of colonization in Texas, known as the Father of Texas
Born Wythe co., Va.; son of Moses Austin. He grew up in Missouri, studied at Transylvania Univ. in Kentucky, served (1814-20) in the Missouri territorial legislature, and was studying law in New Orleans when his father died. Stephen took up the plans to colonize Texas and on a journey there (1821) selected the area between the Brazos and Colorado rivers. In Jan., 1822, he planted the first legal settlement of Anglo-Americans in Texas. He later went to Mexico City to have his grant cleared and confirmed by the newly independent Mexican government. Austin's settlements, with the towns of San Felipe de Austin and Brazoria, prospered. Other American colonists poured in. As friction developed over the years with the Mexican government, Austin opposed illegal efforts at Texan independence. He was sent in 1833 to Mexico City to present the settlers' grievances, to ask that Texas be separated from Coahuila, and to get the Mexican immigration law modified. He was accused of treason and imprisoned. On his return to Texas in 1835 he opposed the government of Santa Anna and so forwarded the Texas Revolution. He was sent as one of the commissioners (1835-36) of the provisional government to obtain aid in the United States, was defeated (1836) by Samuel Houston for the presidency of Texas, and served briefly until his death as secretary of state.
Source: Columbia Encyclopedia, Sixth Edition, 2005
ALEXANDER KEITH (1795-1873), Brewer & Statesman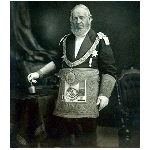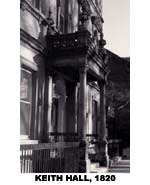 Born in Falkirk, Caithness-shire, Scotland. When he was 17, his father sent him to an uncle in northern England to learn the brewing business. Five years later, when Keith migrated to Halifax, Nova Scotia, he became sole brewer and business manager for Charles Boggs, and he bought out Boggs' brewery in 1820. On 17 Dec. 1822 he married Sarah Ann Stalcup, who died in 1832.
On 30 Sept. 1833 he married Eliza Keith; they had six daughters and two sons. One son, Donald G. Keith, became a partner in the brewing firm in 1853.
In 1822 Keith moved his brewery and premises to larger facilities on Lower Water Street and in 1836 he again expanded, building a new brewery on Hollis Street. In 1863 he began construction of Keith Hall which was connected by a tunnel to his brewery. Keith Hall, now occupied by Oland's Brewery, is in the Renaissance palazzo style, with baroque adornments, pillars of no particular style, and a mansard roof. This peculiar combination of styles resulted from the fact that the designs were probably derived from books with plans of buildings in Great Britain and the United States.
Keith became commissioner of the court of common pleas, served as mayor of Halifax in 1843, 1853, and 1854, and was also for a long period a director of the Bank of Nova Scotia. He became a member of the legislative council in 1843, sat in that body for thirty years, and when the Nova Scotian legislature was constituted in 1867 became president of the upper house. In the same year he was appointed to the Dominion senate, but declined the office.
At the time of his death in 1873, his estate was evaluated at $251,000. Throughout his career Keith was connected with several charitable and fraternal societies. He served as president of the North British Society from 1831 and as chief of the Highland Society from 1868 until his death. In 1838 he was connected with the Halifax Mechanics Library and in the early 1840s with the Nova Scotia Auxiliary Colonial Society. Keith was perhaps best known to the Halifax public as a leader of the freemasons. He became provincial grand master for the Maritimes under the English authority in 1840 and under the Scottish lodge in 1845. Following a reorganization of the various divisions in 1869, he became grand master of Nova Scotia.
Source: University of Toronto/Université Laval, 2000 See the corporate website: www.keiths.ca
DR. HUGH FALCONER (1808-65), Botanist
Hugh Falconer was born in Forres and educated at Aberdeen and Edinburgh where he graduated an MD in 1829. He spent some time assisting Dr Wallich with his Indian herbarium before being sent to Landour in the Himalayas to take charge of the sanatorium. In 1831 he became Superintendent of the Saharapre Botanic Garden where he pursued both botanical and palaeontological research. He is especially known for his discovery of fossil mammals in the Siwalik Hills and for the early cultivation of tea in this area. In 1848 he succeeded Dr Wallich as head of the Calcutta Botanic Garden where he introduced chinchona (quinine) and recommended commercial cultivation (it later became an important economic crop). In 1855 he left India to continue his fossil studies in Britain. He died in London.
Source: Collins Encyclopedia of Scotland, 363
JAMES WILSON MARSHALL (1810-85), American pioneer, discoverer of gold in California,
Born Hunterdon County, N.J. Migrating to California for his health, he arrived at Sutter's Fort (site of present Sacramento) in 1845 and soon acquired land and livestock. After fighting in the Mexican War, he returned in 1847 to find his livestock gone. Having sold his land, he undertook to build a sawmill for John A. Sutter . In Jan., 1848, while supervising the digging of the mill race, Marshall discovered gold. This discovery launched the famous gold rush of 1849. The claims of Marshall and Sutter were ignored, the sawmill failed, and Marshall ended his days, embittered and misanthropic, working as a gardener.
Source: Columbia Encyclopedia, Sixth Edition, 2005